Tours in Sabah
Sabah - often called the 'Land Below the Wind' because it lies below the typhoon belt. Sabah occupies the eastern part of North Borneo and is East Malaysia's second largest state with an area of 74,500sq.km. Sabah has the South China Sea on the west and the Sulu and Celebes Seas on the east with a total coastline of some 1,440 km. Sabah is mountainous with lush tropical rainforests. Its population of nearly two million is made up of 32 colourful ethnic communities. Stated below are tours for visitors to experience what Sabah has to offer.
Go to online tour reservation page now
Tour 1 - Mari Mari Cultural Village
The village is located about 25 minutes away from the city. The journey will take you to long roads surrounded by a rich spectrum of greenery and overarched by wild blue skies. In the village, the colors of cultural diversity are nit an issue but rather our pride, where you can savor the soul of Sabah. Upon arrival at the entrance of the village, you will be ushered to the warmth of different homes of the ethnicities of Sabah. Each home was built by descendants of the tribes they represent and offer you a truly genuine experience seeing everything in and around the village lends to its magical prowess of taking you back in time. Not only does this village portray these tribes though the architectural genius of their traditional houses, but also through a range of stimulated lives of the olden epoch by the residents of the village. Acquaint yourself with each tribe as they let you come into their house and their simple yet intricate lives. As you traverse the village, you will find demonstration huts along the main houses in which daily activities of old times come into life. For example, the making of blowpipe, starting a fire (from polod tree - you will learn the steps of making fire without the help of a lighter), tattoo-making (and its symbolisms) and etc. By the end of your journey into the past, you have been given a setting for you to see, hear, taste and feel the uniqueness of what Sabah truly is. An unforgettable encounter of our Sabahan homeland AS IT WAS.......................... AS IT IS..................
Go to online tour reservation page now
Tour 2 - Kinabalu Park & Poring Hot Spring (w/Lunch )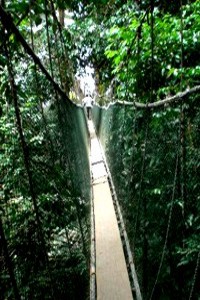 0830 hrs meet at hotel lobby and proceed to Kinabalu Park for a 2-hour journey by road via the picturesque Crocker Range and highland villages. A botanist's paradise, as described by expert "one of the richest assemblages of plants in the world" and was declared a World Heritage Site by UNESCO.

The park is home to the various species of flora and fauna, including Nepenthes Rajah, - the largest pitcher plant in the world, fascinating orchids, and Borneo's montane birds. Tour highlights includes a guided walk to the nature trail. After park, proceed to Poring Hot Spring, situated at the foothills of Mount Kinabalu representing a lowland forest, experience the Poring forest canopy walk and see the spectacular view of tropical rainforest from 80 meters high short forest or take a dip of the outdoor sulphur hot bath based on first come first served or visit the Orchid (optional) showcasing the Borneo orchids. Return to your hotel approximately 1730hrs.
Go to online tour reservation page now
Tour 3 - In Search of Proboscis Monkeys & Fireflies (w/Dinner )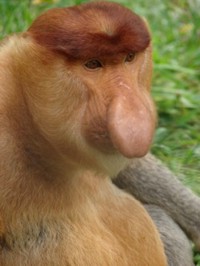 1400 hrs pick up from hotel and take a 2 hours drive to Kota Klias via Beaufort.The drive takes you through a scenic country side view of the fields, water buffaloes, traditional houses and the vast coastline of western, Sabah. upon arrive, light refreshment will be served before on board for the boat cruise at Sungai klias to see fresh water swamp vegetation, a unique feature of Sabah's wetlands. It host a variety of primate species including the Bornean endemic Proboscis Monkey or "Monkey Belanda", the Silvered Leaf Monkey, Macaques and variety of water birds including Purple Heron, Egret, Kingfishers and witness the fascinating glow of "Fireflies" at dusk (if weather permits). Dinner is served in the traditional hut. Return to your hotel approximately 2200hrs.
Go to online tour reservation page now
Tour 4 - Tunku Abdul Rahman Park (Twin Island) (w/BBQ Lunch )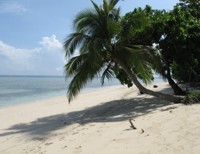 0900 hrs Gather at hotel lobby and proceed to the jetty for schwdule boat transfer to Tunku Abdul Rahman Marine Park and visit Two of the five Islands with crystal clear water and sandy beach. The boat ride takes 15 minutes, upon arrive on the island free at leisure exploring the island, snorkel sets (Mask, snorkel & life jacket) included. You may participate in the optional water sport such as Banana Boat, Parasailing, Fly Fish or Underwater sea walking activities at your own expenses. Delicious barbeque lunch will be served on the island. Late afternoon, return to mainland on 1500 hours.
Go to online tour reservation page now
Tour 5 - Kiulu Rafting White Water Rafting Level II ( w/BBQ Lunch )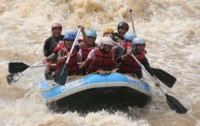 0830 hrs - Gather at the hotel lobby and proceed to Kiulu town where your Rafting adventure tours begins. The journey takes approximately an hour and a half by road north of Kota Kinabalu. Drive past rubber plantations and scattered villages to the cross-roads town of Tamparuli. Take in the magnificent views of the surrounding countryside from the hilltops. By the banks of the river, participants assemble for a briefing on safety procedures. Experienced rafters instruct newcomers to this sport on proper technique and safety procedures. All participants are equipped with safety helmets and life-jackets. Other than the thrill and excitement of riding the roaring rapids, white water rafting is also an opportunity to see the forests and countryside. With headwaters from Mount Kinabalu, this river provides a Grade II to III experience, suitable for newcomers to this exciting sport. Deep pools punctuate rapids - indulge in body-rafting or swimming. The river journey is between1.5 to 2 hours, depending on river stage, delicious Barbeque lunch will be served before returning to your hotel.
Go to online tour reservation page now
Tour 6 - Sepilok Orang Utan & Sukau River Safari ( w/ Lunch )
Pick up from your hotel in Kota Kinabalu and transfer to the airport from short domestic flight to Sandakan. Upon arrival, transfer to Sepilok Orang Utan Center. Witness the feeding of the orphaned Orang Utans. Walk along a jungle trail and observe the tropical lowland rainforest. Numbers wildlife may be seen. After lunch, proceed to the Observation Pavilion for a bird eye view of Sandakan.

In the afternoon, drive through the countryside meandering through oil palm, coca estates punctuated by rainforest. After tea break, embarking on an upriver boat ride to appreciate the many species of Borneo Rainforest flora and fauna. Catch the mischievous wildlife such Proboscis Monkey frolicking, Orang Utans, Hornbills, Crocodiles and the rare Asian Pygmy Elephant on river safari. After the river cruise, transfer to Sandakan airport for your return flight to Kota Kinabalu and transfer back to your hotel.